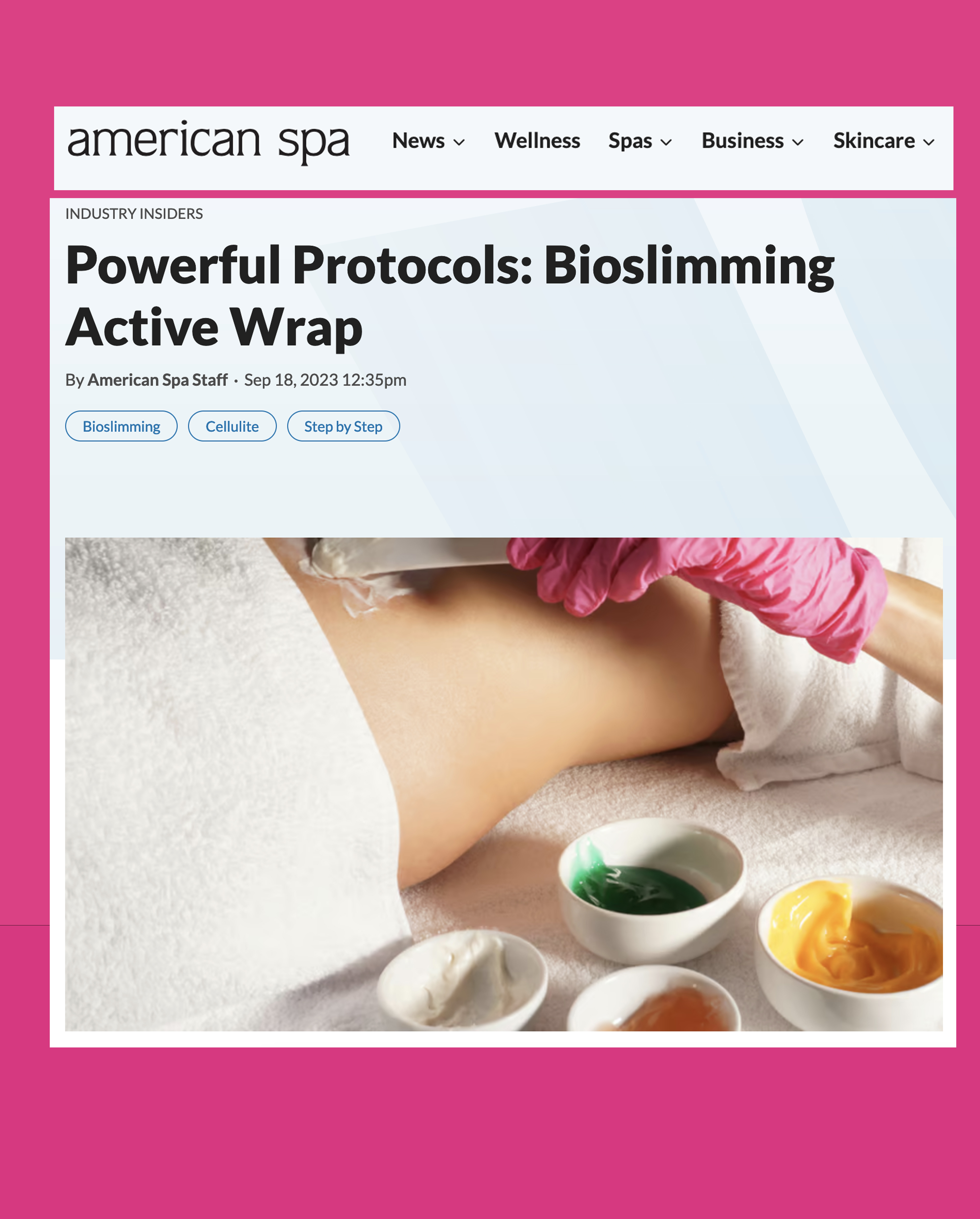 The Bioslimming wrap is a unique and revolutionary slimming wrap. On average, 1 to 2.5 inches (1 to 4 centimeters) is lost per measured area with many clients. It dramatically decreases the appearance of fat deposits and cellulite by 47 percent and helps decrease the appearance of stretch marks.
Step 1: Lie client on the bed face down and vigorously massage in Bioslimming Detox base on the areas to be targeted. Do the same with Bioslimming Active Slim gel and Active Slim cream, vigorously massaging each product into the back of thighs, buttocks, and back.
Step 2: Put a strip of Saran wrap from the top of the back, covering the left side of the back, over the buttocks and down the left leg and tear off, then put another strip of Saran wrap down the right side of back, buttocks, and down the right leg. Ask client to turn around onto their back.
Step 3: Apply the Bioslimming Detox Base now to the front of the thighs, stomach, and arms, massaging as vigorously as before. Then do the same with Bioslimming Active Slim Gel and Active Slim Cream, massaging vigorously and apply the Saran wrap as before.
Step 4: Keep the client warm and cozy for 30 minutes.
Step 5: Next, remove the Saran wrap and apply the Ultra Slim Effect gel.
Step 6: Client may lie down for a further 20 minutes while having a foot, upper back, and shoulder massage.
Bioslimming is scientifically formulated using a unique combination of natural active ingredients, which include a multitude of plant extracts, a high concentration of caffeine, essential oils, algae extract, and thermo agents (both hot and cold). This allows Bioslimming to produce incredible, longlasting results, which are visible from the first treatment. For optimum results, we advise a course of six treatments, four to seven days apart combined with a homecare program that is simple and effective.
"Due to the unique versatility of Bioslimming, when you introduce it into your spa, you are increasing the range of treatments that you offer within your spa with a minimum amount of outlay. The professional set of Bioslimming products allows you to offer a detox treatment, an inch-loss treatment, a firming and toning treatment, an anti-cellulite treatment, as well as a skin-smoothing treatment. It also helps to boost the metabolism and increase the consumption of calories that the body uses, therefore aiding in weight loss. Bioslimming is the ideal treatment to introduce to your spa if your aim is to help your clients get fit, toned, and energized!" —Flora Vergnolle, Founder, Bioslimming